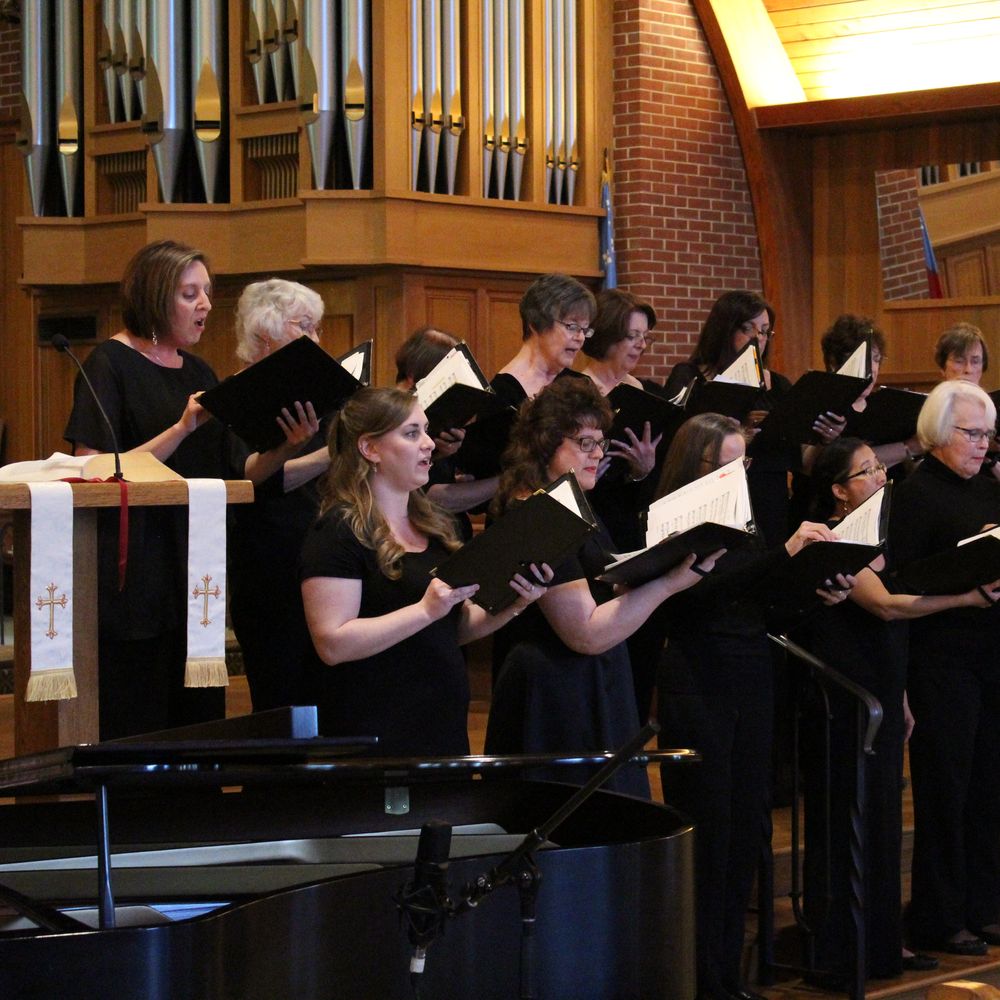 We are an inter-generational group of women who enjoy spending time together, making music, and sharing it with the community.
2023-24 Season: The Oak City Voices season starts in August and finishes in May. We host two public Meet and Greet gatherings before rehearsals begin in Mid Aug and early January.
Dues for the season will be determined for each concert, and currently are $40 per concert (Nov & May). We are able to consider subsidizing dues for members who cannot pay on a case by case basis. Please feel free to ask to speak with any of our Board members or email oakcityvoices@gmail.com with any questions.
Requirements for membership:
1) A basic knowledge of reading music (pitches and rhythms), musical terms, and musical concepts. If you are rusty and/or need assistance, we are available to help.
2) A Willingness to volunteer and serve on various committees as needed
3) A Willingness to practice between rehearsals as needed to learn your part
4) Access to email and the Internet. (We e-mail files and updates).
5) Age 18 years or older.
*Singers are required to be vaccinated against COVID 19 to be able to participate, and wearng a singing mask is as needed based on singer's individual comort.
Meet Our Board of Directors
April Giancola - President
Barb Sawyer - Vice President
Corinne Kadlec - Treasurer
Sharon Farrell - Secretary
Donna Niedzwiecki, Member
Maria Perry, Member
Rusty McKinney- Artistic Director (ex officio)
 Learn more about our members!
Soprano I
Priscilla DeLuca - "I once won a 'Prettiest Feet' contest!"
Corinne Kadlec - "I speak Spanish."
Judith Hillman - "I love thoroughbred horse racing - Kentucky Derby, Preakness, etc."
Soprano II
Susan Beschormer - "In my previous life, I was a church organist for 33 years in Maryland and Nebraska."
Donna Niedzwiecki - "I'm a 3rd degree black belt in Taekwondo."
Lauren La May - "I love badminton."
April Giancola - "I have been writing plays and won the Cary Playwrights Forum Play Slam in April 2018."
Barb Sawyer - "I have always loved horses."
Alto I
Barbara Barnett - "When fairly new to playing golf, I parred Hole #5 at Pebble Beach golf course."
Carleen Durbin - "I'm a clown!"
Alto II
Janet Egan - "I currently sing with two choral groups and when I am not rehearsing or performing with them, I'm out singing karaoke!"
Lynn Silvious - "I am a former Army officer."
Liz Avery (aka Queen of Everything) - "I have been known as the Fairy Dog Mother, but both of my dogs are brats."